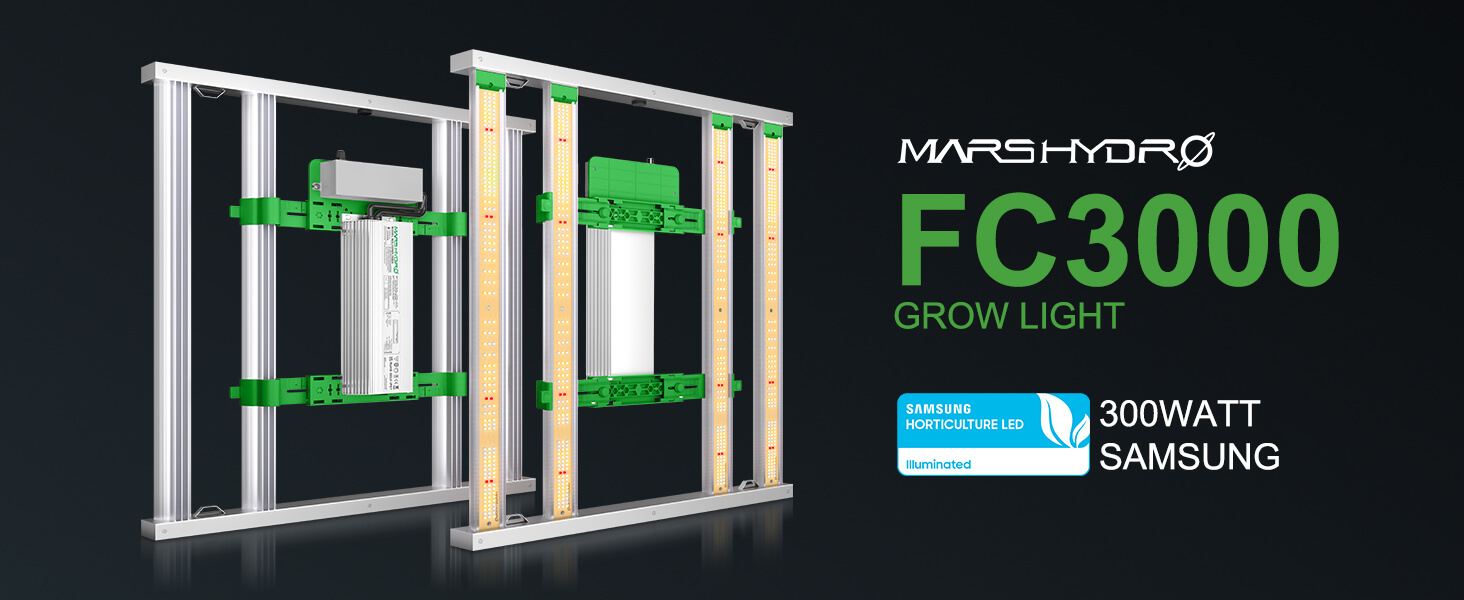 FC3000 300W Samsung LED Grow Light
New FC3000 Led Grow Light-FC3000 led grow light,With the highest level components it uses such as Sumsung LM301 and Osram 660 chips, thick aluminum heatsink and dimming function,easy to connect and control lights up to 20pcs
Best-Selling Samsung Leds-Samsung LM301 and Osram 660nm led chips, higher quality & more efficiency. 
Upgraded Sunlike Full Spectrum-More warm white and red chips added, extremely good for plants at all stages from veg to bloom.
Boom Yield & Increasing Crop Quality-High PPFD at 2.85 umol/j, average yield at 2.5g/w, increasing your yield 50% or more compared with old blurple and HPS lights.
Dimmer knob added-More convenient to adjust the brightness. Up to 20 lights can be daisy-chained and control together on just one light
No fan design, no noise-A whole layer of the aluminum heatsink achieving optimal heat dissipation. Removable driver and 2m extension cord helps lower the growing room temperature.
IP65 waterproof ratings-worry free in high humidity growing environment.
Whether you're growing vegetables or flowers, our grow tents are designed to support your plants in their most productive growth stage. Built of durable materials and supported by metal corners that can support up to 110 pounds, our grow tents are resistant to tipping over, crushing, or corroding.
Our grow tents are designed with high reflectivity and tear-proof 1680D canvas, ensuring that all the light stays inside. Our zippers are carefully stitched to make sure that all light is retained inside your grow tent!
The special inner mylar material is high-reflective and light-trapping, boosting the potential yield of your plants by up to 25%. And its smooth surface makes it easy to clean and maintain. With this grow tent, you'll get the most out of your indoor gardening efforts.
The Mars Hydro 4" inline duct fan is rated for max 205CFM, suitable for use in grow tents. With thermostat controller, the inline fan speed can be adjusted from the lowest to the highest by a simple turn of the knob. Featuring an EC-powered motor and a mixed-flow design, this quiet inline fan is just the right size to keep your grow area cool or warm at all times.
Removable duct ends with locking tabs for quick removal and easy maintenance and a cord length of 4.9 feet for hassle free setup.
Mars Hydro Carbon Air Filter is designed for efficient air filtration, with an inner core of 1050+ Australian activated charcoal to eliminate unpleasant odors and particulates from indoor grow tents. The double-sided galvanized steel mesh provides 53% of the open area for airflow to pass through, so that the odor absorption and chemicals elimination process can be carried out thoroughly while you're still growing.
Designed to eliminate odors and chemicals for grow tents and hydroponics room.