How to Use Dimmable LED Grow Lights Properly?
With the progress of LED technology, more and more LED lamps adopt dimming design, and marshhydro is undoubtedly the leader.
In addition to ts600 and sp150, all our FC / FC-E / TS / SP series lamps adopt dimming and design.
However, there are still some growers who do not know how to use and how to use dimming box correctly. We will talk about these two points next.

1. how to use the dimming box
To make the dimming box work, you need turn on both the light switch (on the front) and dimming switch (on the back), as the below picture showing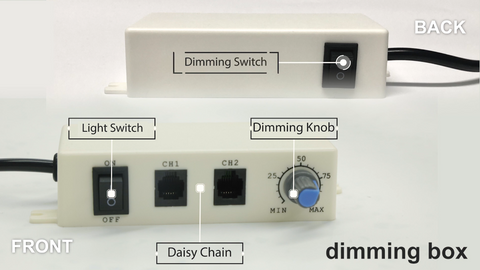 2. how to use dimming box correctly
The correct way for using dimming LED grow lights actually refers to giving plants different growth needs through the dimming function of LED when plants are in different growth stages. 
Different series of lamps have different dimming scales. The LEDs for Mars hydro are roughly divided into FC&FC-E / TS / SP. The following suggestions are for reference:
BTW: We are about to launch a new design for the dimming box. At that time, we just need to turn on the front switch to operate, which is simpler. Please look forward to it!
0 comments